Spice Girls Reunion Tour Set for the UK and U.S.
(AFP) - Spice Girls có thể tái hợp.
Năm cô gái của ban nhạc pop Anh nổi tiếng trong thập niên 1990 với kỷ lục 85 triệu đĩa bán ra trên khắp thế giới đã gặp lại nhau ngày 02/02/2018, lần đầu tiên kể từ năm 2012.
Theo 5 thành niên, « thời điểm nghiên cứu những cơ hội mới và cùng nhau thực hiện đã đến ».
Theo nhật báo Sun của Anh, ban nhạc đang có nhiều dự án với truyền hình Trung Quốc, nhiều hợp đồng quảng cáo và phát hành bộ sưu tập những bài hát thành công nhất của Spice Girls.
oOo
The Spice Girls are getting back together for a reunion tour that will take them to the U.S. ... TMZ has learned.
Our sources say the plan now is for the group to hit the stage in England first and then migrate over to the U.S. There is NO plan for a Vegas residency and no plan to record new music.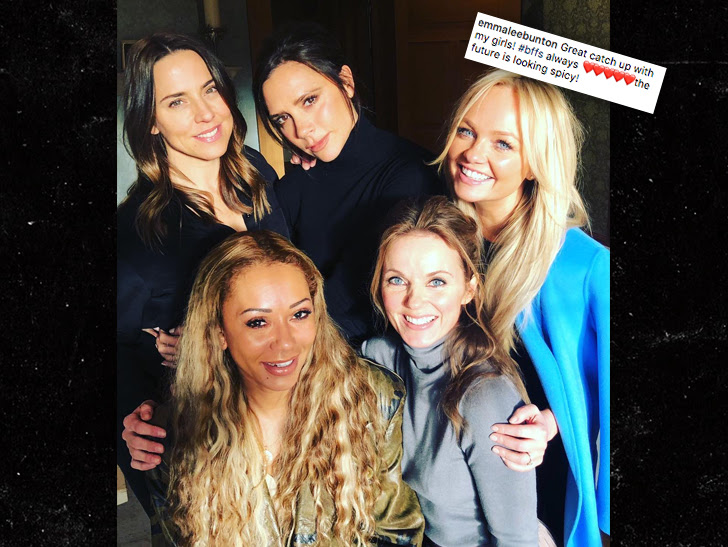 No surprise ... we're told everyone but Victoria was down for the reunion for a long time, but she has now come around and is "fully on board."
Simon Fuller, who made a lifetime's worth of loot as the creator of "American Idol," will manage the group during the tour. Our sources say he's organizing the tour because he enjoys the girls and the group.
One more thing ... we're told they're working on "merchandising opportunities" connected with the tour.
The planning is still in the early stages, but everyone is fully committed and the tour is going to happen.